WBo2 2C0B Wideband (uses rev-3 circuitry)

The 2C0B is Tech Edge's miniature wideband product. As well as Lambda/AFR it can also measure RPM, two analog voltage channels and an additional Vss/Pulse input channel. It has 3 Voltage outputs; WBlin (12 bit accuracy), NBsim, and SVout (9.5 bit accuracy) which are all individually programmable. It also has a free-air calibrate button.

It was introduced in December 2009, superseding the original 2C0. 2C0B now works with the newer and better LSU-4.9 sensor (our Bosch parts are the 17025 and 17123). We designed it for small size and is therefore very suitable for motorcycle usage.
2C0B is suitable for all wideband applications where the extra logging capabilities of the larger units is not required. 2C0B uses the larger M168 processor (~12 MIPs) and has more evolved pump cell control technology as found in the version 3 WBo2 units. It has a 12 bit differential wideband output (WBlin+ &amp WBlin-).

note: 2C0B works with the LSU 4.0, 4.2 & 4.9 sensors . This controller is the versatile upgrade to the economy 2J1 model. The previous 2C0 model lacked the two voltage inputs and the VSS/pulse input this model has.

The 2C0 is housed in a tough, flame retardant, black ABS plastic case. It is small, 90 x 50 mm (ie. credit card sized) and just 25 mm high. The green connectors protrude an extra 10 mm outwards. Click on the images for larger pop-up versions.

The unit has 5 connection points :

wideband cable on Circular Metal socket.
Power & Ground White Molex socket.
I/O on two Green connector blocks.
RS232/Display output on two black 8 pin RJ45 sockets.
Tech Edge 2C0B Features

Supports Bosch LSU 4.0/4.2/4.9 family.
Accuracy to 0.1 AFR (Lambda +/- 0.005).
Differential 12 bit (hardware) WBlin 0-5 Volt output.
two configurable 9.5 bit 5 Volt analog outputs&nbsp:

NBsim narrowband 0-5 Volt output.
SVout compatibility 0-5 Volt output.

RPM input from Tacho or ECU for logging.
Two 0-5 Volt analog inputs for logging.
Vss (like RPM) speed (or pulse width) input.
10.5-19.5 Volt DC operation (3A max).
The following are changes over the original 2C0 :

Works with LSU 4.9 sensor
Two additional 0-5 Volt inputs
Additional Vss/Pulse measuring input
Free-Air calibrate button (no PC needed!)

Two RJ45 serial ports (for display + PC, etc.)
Black case (original 2C0 used a grey case)
The same price as the original, but with more features!
---
Buy the 2C0B Configured as Follows ...
Note: The 2C0B needs a cable between the controller (2C0B) and the selected sensor - different sensors have different connectors (and therefore different cables). Cables are available in various lengths. 2C0B controllers come with power & RS232 cables and green connectors. A display is optional.
---
2C0B Connection Overview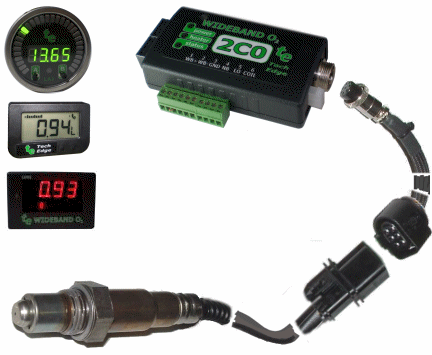 The image at left shows how 2C0 is connected to other WBo2 wideband components. Some popup images of parts are available.
Clockwise from the bottom right, the LSU (UEGO support may be offered later) sensor is connected via the sensor cable (comes in various lengths for different applications). The sensor cable's circular 8 pin connector mates with the 2C0 unit. 2C0 needs a source of power provided by the two pin power cable.
On the back of the case are an 8 pin (RJ45), and a 6 pin (RJ11) connector for PC RS232 connectivity (config & logging) and for connection to an intelligent display. The top of the case carries three status LEDs that show power (GREEN), heater (AMBER) and operational (RED) status.
The side of the case carries a 6 pin green unplugable connector with voltage outputs and RPM logging inputs.
The connectors and their inputs & outputs are described in detail below. Also see the brief connector summary.
2C0B Technical Reference
Much of the technical information for the 2C0B is the same as the original 2C0 described here. The 2C0B has an additional 4 pin connector immediately to the right of the 6 pin connector. There's also the free-air calibrate button near the "W" of "WIDEBAND" on the label.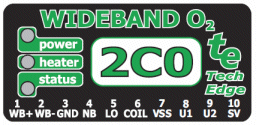 connector
6 Pin connector has same usage as for the 2C0 and usage is shown on the label [1] - [6]


4 Pin connector has the following pin assignments (and are not shown on label)

[7] - VSS Pulse input (TTL levels).
[8] - USR1 0-5 Volt input (User 1).
[9] - USR2 0-5 Volt input (User 2).
[10] - SVout 0-5 Volt output (programmable).
Free-Air calibrate
The free-air calibrate button it is NOT marked as such - it resides on the top left of the label, and there's a small notch in the label to allow for button. Simply hold the button down for about 6 seconds (until it starts to do a triple flash) and wait until it does a fast sequence of seven flashes to indicate it has completed.
If you need to use the inputs on the 4 pin connector then please contact us for further technical information. For all other aspects of the 2C0B, including the wideband outputs, refer to the 2C0 information here.
---
note: Original 2C0 (created 1 March 2004) page-count at 02 June 2010 (when this page was released) was 35,238.