In 2010 we started design of a multi-channel general purpose device whose primary purpose was as a wideband controller. We designed and produced prototypes of most components of this design, and we generated a fair amount of interest from quite a few people.

In late 2011 it because apparent that unless a specific purchaser or market for this product came forward, we'd probably be producing a fancy, over-priced device, that no-one could afford. Or for those who could afford it, they would probably go with a more recognised up-market manufacturer (we don't quite have the brand-name impact of other international manufacturers). So, we decided to halt development. Now in 2014, as I update this page, it seems we have probably cancelled this product.

Rather than offering a dedicated (and high price) box with a single card per channel, we'll be developing small and multi-channel devices (with two and four channels per unit) with the emphasis on lower cost.

The images here are of our prototype.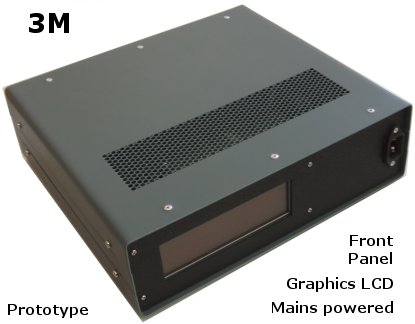 Please understand that as of 2014 this device is NOT planned to be manufactured, and this page is for reference purposes only.
Over the years we have had many request for a unit of this type - we have adopted the following specification for the base model unit:
Up to 12 wideband channels.
Accurate 12 bit 0-5 Volt wideband output.
Supports 4.2 LSU & 4.9 LSU sensors.
Single plug-in card per channel.
Status LEDs and one 0-5V input per channel.
separate LSU cable, custom lengths, per sensor.
Mains powered (110-240 Volt AV, 50-60 Hz).
Small case compatible with rack mount equipment.
Other features we are working on are:
Serial and USB interfaces with a PC control application.
Graphical front panel for stand alone operation.
logging module with plug-in (SD) memory card.