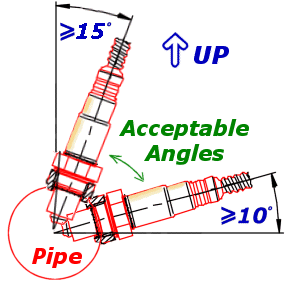 Sensor Placement
Sensor operating temperature should be attained in 20 to 30 seconds when the control unit is attached to a 12 Volts (and up to 19.5 volt) supply. A longer warm up phase indicates either a problem with the sensor, the controller, or where the sensor is positioned. Controllers have in-built diagnostic LEDs and documentation for your controller should be carefully read to determine what your controller is saying.
The image shows the range of acceptable mounting positions. A vertical position can get too hot in confined spaces, so we recommend at least 15 degrees from the vertical. The horizontal position can cause condensation to drip onto the sensor, so we recommend at least 10 degrees from the horizontal. In all cases the sensor should be perpendicular to the gas flow, ie. the bung should sit square over the pipe - this ensures adequate but not an excessive amount of gas enters the sensor.
We recommend placing the sensor around 1 m (40") from the closest exhaust valve. Where this cannot be achieved then spacing the sensor away from the direct exhaust by using a longer M18x1.5 bung, or a nut welded over a standard bung, is recommended.
Tailpipe Sniffing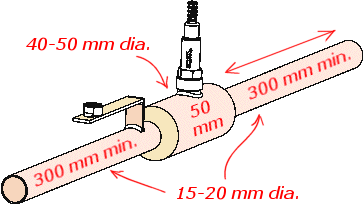 When the sensor is used in the tailpipe sniffing position, then we recommend a special pipe (shown at right) be made to reduce the chance of excessive sensor cooling.
Note that the relatively small inlet and exhaust pipe (15-20 mm diameter) is designed to sample only some of the exhaust gas. The much larger diameter (40-50 mm) sensing chamber with the M18x1.5 bung is designed to limit gas speed past the sensor, and the additional turbulence is for good gas transfer to the sensor body.
A guide to how much cooling is experienced by the sensor is how long the sensor heating phase takes to complete. To test, switch off the sensor for at least 30 seconds, and then switch on with a battery voltage of at least 13 Volts. If the sensor takes more than 40 seconds to reach operating temperature (determined by observing the status LED no longer flashing) then the sensor is probably being over-cooled, and should be positioned further out of the exhaust stream. Interestingly, the worst cooling effect can be experienced at low to medium RPM ranges where much of the exhaust gas heat is lost to the exhaust system before it reaches the tailpipe sniffer. At higher revs the gas can heat the sensor some.