Wideband sensors require a controller because they are more complex than a standard narrowband sensor. They are more accurate because of this complexity, but this means they require a technically complex controller for them to work at all. The sensor itself can be thought of as two closely connected parts that are electrically heated to a dull read heat:
A narrow-band sensor to detect the oxygen concentration within a small chamber.
A pump cell that transports oxygen ions to or from the surface of this small chamber.
As we will see, the wideband sensor is operated by current that is pumped into or out of the pump cell by the wideband controller electronics. This is fundamentally different to a narrowband sensor that produces its narrowband voltage, without any external electronics, when heated to operating temperature. To understand wideband, we must first understand narrowband sensors: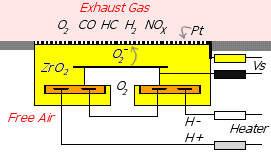 Narrow Band Sensors
Narrowband sensors have between one and four wires. One of the wires will always be the signal voltage. A second wire can be used to isolate the ground end of the signal to reduce signal noise. Three and four wire sensors add a heating element so the sensor starts operating faster and more reliably.
The image at left shows a representation of a 4-wire version - in practical narrowband designs the sensor is often shaped as a thimble to maximise surface area exposed to the exhaust gas. The electrical heater is used to raise the temperature of the Zirconium Dioxide (ZrO2) material that the sensor element is made from.
Zirconium Dioxide (often doped with Yttrium oxide) is an important substance that maintains mechanical rigidity while capable of conducting an electric current when in a molten (red hot) state. The sensor current is carried by oxygen ions that become available only when the sensor is hot enough. The Platinum covering is both conductive and promotes a catalytic reaction between oxygen ions and partially burned fuel. The Nernst equation describes the voltage produced as a result of this catalytic reaction involving Oxygen ions, Platinum catalyst and exhaust gas.
Vs = (RT/4F)*ln(pO2air/pO2exh) pO2 = partial pressure across gas boundary
The pO2xxx is the partial pressure of oxygen, and is a convenient representation of the oxygen concentration on each side of the oxygen sensor. The RT/4F term can be thought of as a constant multiplied by temperature T.